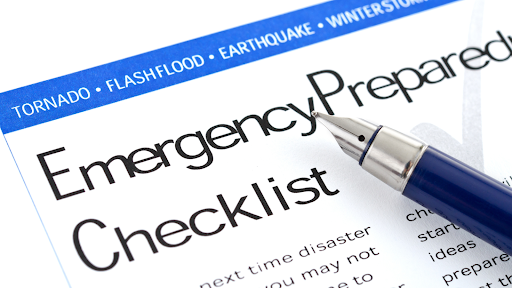 Residents of the great state of Florida are no strangers to what Mother Nature can throw at us. We've seen first-hand the human and economic toll hurricane season can take. The National Oceanic and Atmospheric Administration (NOAA) predicts another busy hurricane season for 2022. 
Florida Capital Bank wants to help our small business neighbors stay ahead of inclement weather events by offering these seven tips for hurricane preparedness.
Hurricane Preparedness for Small Businesses
Florida Capital Bank works hard to develop long-term relationships with our small business customers. After all, we're all members of the same community. These tips can help protect your business interests and get you back on your feet faster in the event of a hurricane. All of these suggestions can apply to your home and finances, as well.
Protect Financial Documents
Keep all hard copies of business and personal information in a weather-proof safe or another container. It's also a good idea to make digital copies of these items. Store them in the cloud or on a USB drive and keep it in a lock box in a separate location from your home or business. Update the electronic copies before each hurricane season. Gather items such as:
Personal identification (Licenses, birth certificates, Social Security Cards, etc.)

Financial information (account numbers for checking, savings, retirement, investments, charge cards)

Insurance policies

Deeds, titles, registrations, contract agreements

Employee information

Health and medical insurance documents
Assemble an Emergency Kit
Consider how many employees are usually at your location to ensure everyone's needs are met. Items like nonperishable food, water, first aid kit, flashlights, battery-powered radio, and batteries are usually top of mind. If your place of business has a generator, make sure it has a backup battery or fuel.
Know Your Risk
FEMA puts out a flood risk map for all counties in Florida. Knowing your risk will help you prepare evacuation plans and purchase adequate insurance well before bad weather strikes.
Withdraw Emergency Cash
If the electricity goes out, so do the ATMs. Keep an emergency stash of cash in a secure location.
Open an Emergency-Only Credit Card
An emergency line of credit with a credit card can help you purchase essentials after the storm rolls through to do minor repairs or shore up essential supplies that may have been depleted during the hurricane. These usually carry a higher interest rate than a bank loan, so be sure to pay it off during the first cycle if possible.
Line Up Online and Mobile Banking Services
The need to access your funds and financial information doesn't stop just because the roads are impassable and local services are impaired. Ensure your online and mobile banking services are up-to-date with fresh passwords and logins before bad weather hits so you can remain or return to operational status as soon as possible. Signing up for paperless billing and e-statements is also a good idea if the mail service is hindered.
Check Insurance Coverage
Know what your current insurance covers as far as storm and flood damage. Purchase additional coverage if needed.
Florida Capital Bank — Your Partner in Business and Life
The team at FLCBank wants you and your business to remain safe during the 2022 hurricane season and beyond. If you have questions regarding how to protect your small business further, don't hesitate to reach out to us at one of our Jacksonville, Gainesville, Tampa Bay or Orlando branches. Together, we can weather any storm.