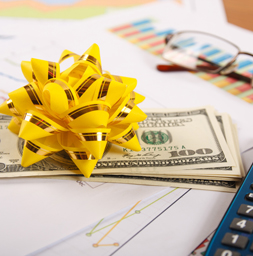 Receiving gifts is always fun, but buying them can be stressful. As the holidays approach, you may worry about finding gifts that your loved ones will appreciate. Although the right gift will depend on the recipient, you can't go wrong with an investment. You can buy your loved ones any number of financial assets, each of which offers long-term benefits.
Preferred Presents
More than any other kind of gift, investments really do keep on giving. If placed in the right funds, an investment will appreciate over time, providing the recipient a growing source of wealth. By contrast, a gift of cash will only last the recipient as long as it takes to spend it, while a gift card may expire over time and become useless. Only with an investment can you ensure that your friends and loved ones will continue to benefit in the long run.
Investments also contain a personal touch that cash gifts do not. Whereas you can give people your extra cash without thinking much about it, making viable investments requires careful planning. As their gift investments grow in value, your friends and family members will see the evidence of your time, effort, and critical thought, and will appreciate what you have given them.
An investment can also be interactive. If you invest in several assets, some riskier than others, the recipient will have to re-balance them periodically. This will allow them to become directly involved in the gift and thus appreciate it more. It will also teach them how the market works, providing knowledge that is far more valuable than the investment itself.
Finally, investments can reflect your loved ones' interests and values. If the recipient wants to save the environment, you can give him or her stock in an alternative energy company. If he or she has an interest in aerospace technology, you can invest in companies that work with NASA. Whatever the issue, there's a way to get involved financially.
Financial Gift Ideas
The type of financial gift you should give depends on the recipient's age, needs, and interests. The most common financial gifts include:
US Treasury Bonds

– This involves

making loans to Uncle Sam

. All income from that loan will be exempt from all taxes except Federal ones. Your recipient must have a

TreasuryDirect

account, and you must know his or her Social Security number.

Stocks

– Though riskier than bonds, stocks have the potential to provide

much higher returns

. Many companies allow you to buy individual shares; you can give the certificate as a gift.

Mutual Funds

– These funds own small amounts of stock in large numbers of companies. They provide a happy medium between the safety of bonds and the high potential returns of stocks.

529 Plans

– Ideal for children who may later want to go to college, 529 plans are

exempt Pices from taxes

as long as the recipient uses the money for education. You can buy pre-paid plans that earmark money specifically to pay tuition or college savings plans that you can invest in other funds.
Whenever you give an investment as a gift, you should always explain to the recipient how it works. Otherwise, the recipient may not understand what the rules are for using their new asset, and may end up incurring tax penalties or even audits. The better you explain the gift, the more your loved ones will benefit from it.
*As a reminder, this article is for informational purposes only and is not intended to replace advice from a Certified Financial Advisor. At Florida Capital Bank we are here to assist you with savings tips and advice on our FDIC Insured products and services. For more information on personal savings and FDIC insured accounts please visit our website today.