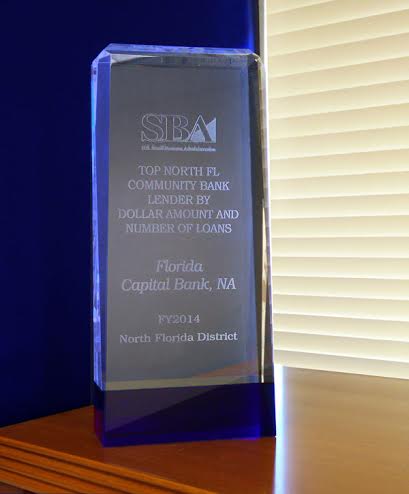 Florida Capital Bank, N.A., was recently named Top Community Bank Lender by Dollar Amount and Number of Loans. This award, presented by SBA's North Florida District Office, is great news not only for Florida Capital Bank, N.A., but also for the many small businesses in the community who rely on a dependable SBA lender for their companies' well-being. Interested in working with an award winning bank? Get started now.
Local Business Growth
With small business lending growing in Florida, business owners are looking for trusted community lenders. Small businesses are as diverse as the people who run them, and here at Florida Capital Bank, we know that financing solutions that are perfect for one company will not meet the needs of another. That's why our responsive local lenders are integral to our success. We offer several different kinds of SBA loans, including SBA 7(A) loans and USDA loans. By offering different products, we're more likely to find just the right fit for each business.
In addition to being responsive, the financial experts and trusted advisors at Florida Capital Bank keep up with the markets, local industries, and local and federal regulations so they can be in the best possible position to help small business owners. An informed SBA lender is able to offer timely tips and advice and know how current conditions will affect a company's borrowing power.
"Looking Out For the Customer"
According to Steven E. Kunk, Executive Vice-president of Corporate Strategies for Florida Capital Bank, "[Florida Capital Bank] is really geared to look out for the customer, meaning we are always going to offer our customer financing best for their situation. We do SBA lending if it is beneficial for the customer or a conventional loan if that better meets their needs. There are many examples of this approach used by our bank. It works. It is best for the customer. And in the long run best for us."
Clearly, this win-win strategy is working. Receiving the Top Community Bank Lender award proves that Florida Capital Bank's model of seeking individualized solutions for clients is in the best interest of the small business, the SBA lender, and the community as a whole.
---
Ready to take your business to new heights? We're ready to help you get there. Click the button below to speak with a member of our team, understand your options and determine the best loan for your growth.