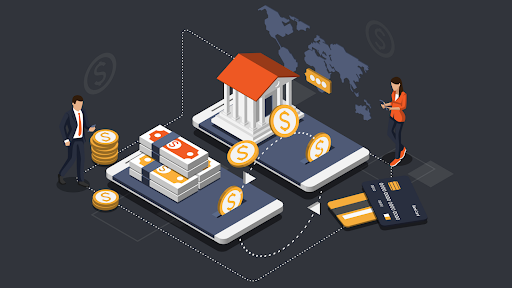 When it comes to your business's financial well-being, you can never be too careful. Accepting payments from customers and vendors should be streamlined, secure, and convenient for all parties. That's where ACH payments come in. FLCBank is a nationally chartered bank with full-service branches in Gainesville, Orlando, Tampa Bay, and Jacksonville to meet all of your ACH payment needs.
What Is an ACH Transfer?
Also known as e-checks or electronic funds transfers, an ACH payment is when money moves between banking institutions through the ACH Operator. The ACH Operator handles the transfers electronically, by batches of payments to the receiving banks. The ACH Network has strict guidelines, making ACH transfers quite secure.
What Is a Wire Transfer?
A wire transfer is a method of electronically sending funds from one person or entity to another through financial institutions.   Wire transfers is a faster method for transferring funds between accounts and financial institutions compared to ACH batch processing, hours versus days. 

Differences Between Wire Transfers and ACH Transfers
Whether from an individual or a larger entity, you want your funds to arrive in your account securely and swiftly when there is an outstanding balance. Likewise, when you send payments to vendors or banks, you want to know the money will arrive in the recipient's account without hassle. Understanding the differences between wire transfers and ACH payments will help you choose the correct method for sending and receiving funds. Here are some key differences:
Wire transfers:
are quicker than ACH transfers

incur transaction costs (sometimes up to $35)

great for large sums needed the same day (such as closing on real estate)

can be used to send funds to other countries

can only be initiated by the sender

cannot be reversed
ACH transfers:
can take one to three business days

are usually free or very inexpensive

can be used for recurring payments

can only be used within the United States

are incredibly secure due to stringent  ACH network rules

great for recurring payments or subscription services

can be automated for convenience

may be reversed if an error is found
ACH payments are second-to-none when dealing with direct deposits, recurring payments, and electronic debits and credits for goods and services. A team member from FLCBank can help you choose and set up the most effective payment technology for your business's needs.

FLCBank Offers Payment Solutions for Small Businesses
If you're looking to accept ACH payments or transfers for your Florida business, FLCBank has the tools and technology you need. We have branches in Jacksonville, Orlando, Tampa Bay, and Gainesville to ensure you have all the options you need in the locations where you and your customers can easily reach us. Contact FLCBank today to get your business started with ACH payments.